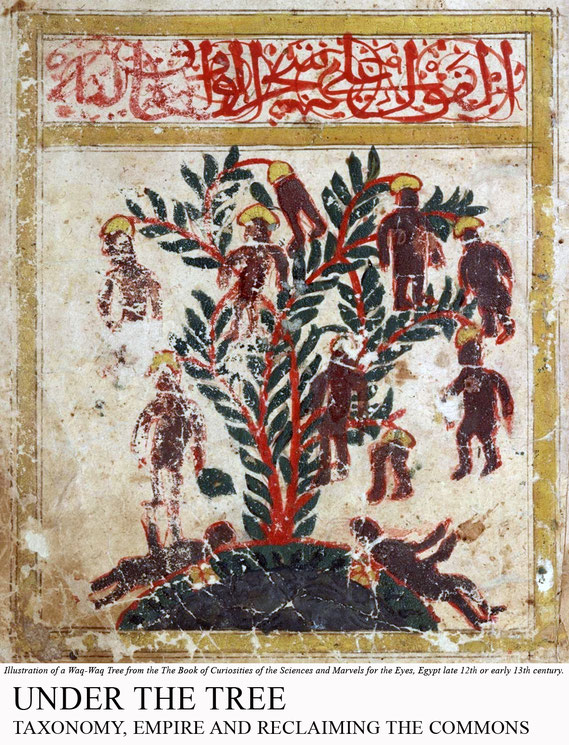 Symposium Description:
Historically, colonialism and cultivation have been intertwined. Botanical taxonomy has underpinned European colonial expansion and served as precursor for racial hierarchization. If the now-hegemonic classification system instituted by Carolus Linnaeus (1707–78) can be likened to contemporary practices of bioprospecting and appropriating indigenous/local knowledge for the profit of transnational corporations, what critical, legal, literary and aesthetic tools might we employ in order to interrupt the 'monoculture of knowledge' of contemporary science and global neoliberal capitalism? How does the colonial construction of knowledge relate to contemporary questions around access to resources (file-sharing, seed banks, agricultural commons) and the suppression of 'ecological' thinking? Faced with contemporary biopiracy and epistemicide, how might we conceive of alternative practices of piracy and the commons that 'harvest' not only knowledge but also memory and the imaginary? 
October 12, 2016 @ the Khalil Sakakini Cultural Cente
12:00-12:30 opening remarks
12:30-14:30 first panel
14:30-15:30 lunch, Community Garden opening, BookScanner, Moving Garden.
15:30-17:30 second panel
17:30-18:00 closing remarks
Participants:
1. Anika Barkan - artist
Anika Barkan is a Danish Performer, artistic developer, cultural entrepreneur at CoreAct and at AFUK. Anika studied and worked in Japan, New York and South Africa with a number of legendary artists, among them Min Tanaka, Anna Halprin, Ann Bogard and The Wooster Group. Anika's Moving Garden – Ramallah performance aims to establish a temporary respite where performative and sensory experience evoke memories that revolve around the concept of "gardens".
2. Saad Dagher - agro ecologist
Saad Dagher is a freelance agronomist, agro-ecologist, educator and yoga and reiki trainer. Saad regularly travels around the world researching sustainable farming methods. He established the first eco-village in the West Bank on the lands of Farkha village. Saad is establishing the first Community Garden and Neighborhood Compost Center on the grounds of the Khalil Sakakini Cultural Center.
3. Munir Fakher Eldin - speaker
Munir Fakher Eldin (Ph.D. in History, New York University, 2008) is Assistant Professor at the Department of Philosophy and Cultural Studies, and the Masters Program of Contemporary Arab Studies, Birzeit University, Palestine. He is also a researcher at the Institute for Palestine Studies. His research has focused on how elite and popular actors in Palestine interacted with late Ottoman and British-Mandate discourses of reform.
4. Marcell Mars  - speaker
Marcell Mars is a free software advocate, cultural explorer, and social instigator and a founding member of Multimedial Institute - mi2 and net.culture club mama in Zagreb. Marcell is the co-founder of the BookScanner Project and FreeLibrary.org. Marcell's work promotes universal access to knowledge by challenging the private property regime. Marcell will inaugurate and demonstrate a bookscanner custom designed by Voya Antonic to harvest books throughout Palestine.
5. Vivien Sansour - speaker
Vivien Sansour founded the Palestine Heirloom Seed Library as part of her work on seed autonomy. Trained in Anthropology, Vivien works with farmers worldwide on issues of agriculture and independence. Her solo show, Terrain: Palestinian Agri-Resistance, created a collection of people and landscape portraits of agri-Cultural Palestine. Vivien participated in Confrontation Through Art residency in Nicosia, Cyprus as part of the collective exhibit "Where The Sky And The Earth Touch".
6. Shela Sheikh  - speaker, moderator
Shela Sheikh, Lecturer in the Centre for Cultural Studies, Goldsmiths (University of London), convenes the MA in Postcolonial Culture and Global Policy. Current projects include a monograph on martyr "video-testimonies"; a special issue of Third Text (co-edited with Ros Gray), "Botanical Conflicts: Contemporary Art, Visual Cultures and the Politics of Soil and Planting"; and an edited collection (with Matthew Fuller), "Cultivation: Vegetal Lives, Global Systems and the Politics of Planting."
7. Nida Sinnokrot - organizer
Nida Sinnokrot is the Co-Founder of Sakiya, an international residency program for art, science, and agriculture. Nida participated in the Whitney Museum Independent Study Program, is a Rockefeller Foundation Media Arts Fellow and his art work has received support from various institutions including the Sharjah Art Foundation, the Khalid Shoman Foundation and Academy Schloss Solitude. Nida currently teaches at the International Academy of Art Palestine.
8. Beth Stryker  - speaker
Beth Stryker is Co-Founder of CLUSTER (Cairo Lab for Urban Studies, Training and Environmental Research) a platform for urban research, architecture, art, and design initiatives in Downtown Cairo.  Stryker has curated exhibitions and programs for D-CAF in Cairo, Beirut Art Center, Leslie Tonkonow Artworks + Projects, AIANY/Center for Architecture in New York (where she held the position of Director of Programs), and the MCA in Chicago, among other venues.
9. Omar Imseeh Tesdell - speaker
Omar Imseeh Tesdell is assistant professor in the Department of Geography at Birzeit University and a postdoctoral fellow of the Arab Council for Social Sciences. His research focuses on environmental questions and sovereignty in the Middle East. He earned his Ph.D. in Geography from the University of Minnesota in 2013. The Social Science Research Council IDRF, Palestinian American Research Center, and the University of Minnesota have supported his research.
Organized by Sakiya in collaboration with the Khalil Sakakini Cultural Center
With special thanks to Shela Sheikh, Alhareth Rayyan, Raya Ziada, Sahar Qawasmi, Badawi Qawasmi, Yara Odeh and our funders, CKU and DHIP